Broadcasters and musicians pay tribute to his groundbreaking films in new documentary
BBC Four will present a tribute to famous filmmaker Christopher Nupen this weekend with a new documentary titled Listening through the lens: the films of Christopher Nupen. The 90-minute program, narrated by Stephen Fry, features clips from some of the director's most famous films as well as interviews with broadcasters and musicians he has met throughout his career including David Attenborough, Daniel Barenboim, Jacqueline du Pré and Melvyn Bragg. .
Born in South Africa, Nupen moved to Britain after college where he began his documentary career with the BBC. Quickly moving from radio to cinema, Nupen's intimate biographical documentaries give viewers a glimpse into the world of classical music and the lives of such icons as Du Pré, Barenboim, Vladimir Ashkenazy and Evgeny Kissin.
BBC Four celebrates Christopher Nupen's groundbreaking work on Sunday (Photo: Allegro Films)
As Ashkenazy puts it in the film, Nupen's depth of musical knowledge was a great advantage in making these portrait films: "He gave all of his mental and emotional energy to give music as much as he could. , and he basically figured it out. . And this identification, with all the music he has known and all the musicians he has known, shines very strongly in his work. '
In 1966, with the BBC, Nupen made Double Concerto, a film about the collaboration between Ashkenazy and Barenboim. In the new documentary, Sir David Attenborough recalls the groundbreaking nature of this play: "No one had ever made a film this way and it was very clear that this was a new director's voice… on the same page. , or even the same note, as those who participated in it.
After leaving the BBC in 1968 to co-found the production company Allegro Films, Nupen filmed du Pré, Barenboim, Itzhak Perlman, Pinchas Zukerman and Zubin Mehta in the interpretation of Schubert Trout quintet in London in 1969. Zukerman recalls that "when the Trout released in Germany […] there was such a hubbub about it, literally overnight we became a household word and that is, I think, the strength of the film of course ".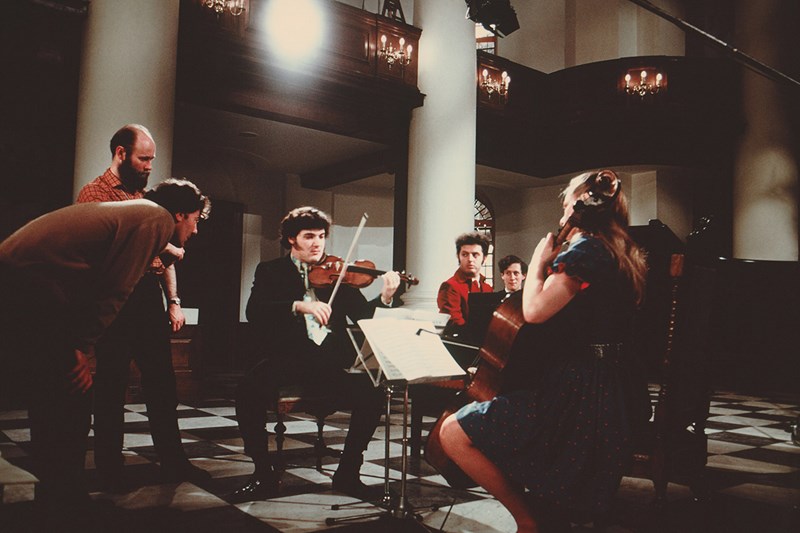 Filming of one of Nupen's first triumphs, "The Ghost" (photo: Allegro Films)
Nupen recently published his autobiography (also titled Listen through the lens), examined in Gramophone in April 2020, where Jeremy Nicholas praised it as "a tale of how he made his films and a compelling story that he turns out to be".
The documentary Listening Through The Lens: The Films of Christopher Nupen will air on BBC Four on Sunday October 3 at 9 p.m. ET.
On both sides, the channel will broadcast two films by Nupen: at 8 p.m., Jacqueline du Pré: A Gift Beyond Words and at 10:30 p.m. We Want Light, a powerful film exploring the relationship between the Jewish people and German music. .
The secret to Christopher Nupen's success – in the words of some of today's greatest artists and broadcasters:
Vladimir Ashkenazy: 'One of Christopher's great qualities is that he never felt like he was bothering you, or putting pressure on you. He was always trying to be a part of your life and give it to potential viewers.
Pinchas Zuckerman: 'An understanding of depth, the ability of music to carry […] a human. The energy that we create, it [Christopher Nupen] understands it like he's playing himself, and that's what I try to do most of the time: go through the notes I wrote on the page to the person listening, and he captured that and he was able to do it with the camera. '
Lord Melvyn Bragg: 'He was a non-threatening obsessive; I mean, he folded his ear – why wouldn't you do that – but it was fine, it wasn't boring, and it wasn't selfish. It was music that interested him and that's what he devoted himself to.
Itzhak Perlman: 'One word that comes to my mind is enthusiasm. He was really, really enthusiastic about everything he did and sometimes "being a professional". […] can be an insulting word. […] Christopher was never a pro. He was an amateur in a good sense, as if he was committed to what he was doing and I trusted his knowledge and of course his tastes.
Daniil Trifonov: 'Christopher Nupen knows how to get into the psychology of an artist and it really shows the art of making music from the inside out and it just helps you understand what it's like to be a performer. '