For those who don't know me, I'm the old man who lugs around a camera, has a closet full of shirts with the WPSD logo on, and plays football on Fridays. For years, I used to tell my daughter Hannah to behave.
For 37 years, I have had this growth on my shoulder. Some people call it a camera. As we age, this camera seems to get heavier and heavier.
There is a little voice in my head that says lighten your load.
There's a bigger voice behind my back saying enough is enough.
Two things are certain:
I admit I hear voices.
It's time to slow down.
My dad once said to me, "Michael, if I knew I was going to start having medical problems so soon after I retired, I would have taken it much sooner. If you learn anything from me, retire while you can still enjoy things.
With that, this bald old photographer puts his camera down and tells him to stop.
But during this 37-year trip to WPSD, I wouldn't change a thing.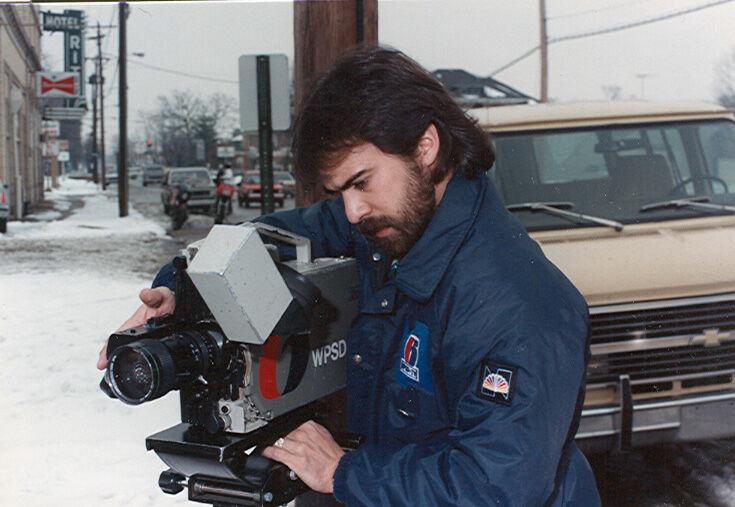 I have met some not so nice people, but so many other wonderful, angelic, down to earth, heroic, humble, beautiful and great people.
I'm still not sure why people allow complete strangers to come into their homes, open their hearts, and let a TV crew put their mugs on a screen for everyone to see, but they do. make. And I would like to say to each of you, thank you from the bottom of my heart for your patience, your openness, your trust and sometimes your cookies.
Sometimes I was not welcome in your neighborhood, let alone in your street or in front of your house.
I understand that.
To be honest, this is one of the worst parts of my job.
But I was also honored to sit on your couch, to take a tour of your house, to meet a little girl who celebrated life and who passed away a few days later.
I have met some great people in their worst days and I can still call them friends.
That's the thing with the TV news. We show up on someone's best day – or worst.
I like good stories better.
My colleagues too.
Trust me on this.
And doing those great stories makes you feel better about your day, your week, your life.
It is no honor to have covered two school shootings.
But through all of this tragedy and ugliness, I made friends.
Missy, Christina, Sabrina, the Jameses, the Copes and the Holts, you are all true champions, and it is an honor to call you friends.
To my law enforcement friends, you will be relieved that I am not calling you so much, at least for reports and information. Thank you for putting on this uniform every day. We are safe because you do it.
To the elected officials whom I tracked down in one way or another, thank you for your public service. Bob Leeper, you never have to worry again about me kissing you on the cheek in front of the Governor – or maybe you will.
To my colleagues past and present, you are all the best. You are all family. You are all very patient to put up with me all these years and never crush me – even if it was close.
To Perry Boxx, our current news director, thanks for bringing some news to the newsroom. You're the callback we never knew we needed.
I know you are looking for a replacement for me. I doubt you will find someone else who will provide your doctor with a camera for your next colonoscopy.
To Bill Evans, my former CIO and Vice President and now Managing Director, I heard that sigh of relief! Yes, the guy who's never been afraid to ask multiple questions or ask lots of ideas is finally out of your hair.
Bill is a tough boss. A really tough boss. Its standards are high and expectations are higher.
But you have made me a better leader and journalist.
Dough Harnice, you were and you are like a father to me. You taught me how to run a photography department. You taught me to make safe decisions, but not too fast. You were my sounding board, my shoulder to lean on and sometimes my disciplinarian. I was and still am honored to follow in your and Mike Swift's footsteps, being only WPSD's third chief photographer.
To Jeff Bidwell, I wish I had remembered you from the sports news and all the conversations you had. You are a big picture guy. Hope the door to your office wasn't closed to prevent me from entering – it didn't work. But the conversations we've had about work, life and where we're going from here are treasured.
Lori Barrett, my working wife, I would love to have your organizational skills. You are an amazing mission manager and an even better person. Thank you for keeping me in the loop, pointing me in the right direction, and doing your best to keep me from saying things that I shouldn't. Even though you deserve every vacation you can get, I've always hated replacing you because you're so good at it. I will miss our daily references to old movies, TV shows or music. These young people do not understand.
For Mike Mallory, you are the ultimate professional. Our What's it Worth days were so much fun. Your sharp mind, memory and musical knowledge are fun and amazing.
To Jen and Todd, keep up the torch of jokes and laughs. Newsrooms are filled with pressure and bad news; downtime should be appreciated. Keep teaching, keep mentoring, and always remember: there is a security camera to capture those unforgettable moments.
For Dan Wilson, our chief engineer, I couldn't ask for a best friend. Over the years you have explained engineering things in English, or at least in words that I could understand. I will miss our meetings where we solved the problems of the station and the world, if they would listen. You came to my rescue when my camera didn't work, the mounting system failed, or my water heater stopped working. Good friends help you. Amazing friends show up over and over again – just because.
To my daughter Hannah, thank you! You grew up at WPSD. Heck, you were born on TV in a story. You played on a blanket on the floor while I was editing a documentary. You used to hang out with your old daddy on football nights. You forgave me every time I was late for dinner or to pick you up or missed a football game or. You forgave me and you kept me in line. You inspired me then and you still do it every day. I LOVE YOU!
And for my wife, Carrie, you are gorgeous inside and out. Many say that you really must have done something wrong and that you are paying for it by spending time with me. I know you have earned your wings. And to you, I also apologize for the missed dinners and the delay and the "be there in 20 minutes" calls just to keep it an hour or two. Thank you for your love and support and for never leaving bruises. I LOVE YOU!
My last day of WPSD will be October 31st. I have already put memories and things that I have accumulated in four boxes. Most people in the office keep saying, "When are you going to start cleaning up your stuff?" So I guess I'll have at least four more boxes.
And looking around I see pictures of kids I've met in Saint Jude and Telethons, a bolt from the old Ledbetter bridge, handwritten thank you cards from people over the years, a glass bottle found under an old prison, a "World's Greatest Dad" trophy and many candid photos.
My wife calls me a hoarder. I like to think of him as a memory collector. And as I get older my memory fades, so I have 'stuff' to remember.
However, I am a little confused as to why I kept all the old cell phones that were given to me. And pens, pens too!
For all budding photographers or journalists, this is a great job! The world is your office. You will never be able to please everyone, so do your best. Embrace small victories. Treat everyone with respect, even those who avoid you, yell at you, or are handcuffed. You never know who you will meet at the grocery store. This has happened to me twice.
And to all the others I failed to mention, THANKS. You are part of my life and part of me. Thank you for the memories, the laughs, the review sessions and the strawberry cake.